Frequently Asked Questions about RecoveryRx®
Technology Overview
1) How does this technology work?
RecoveryRx medical devices treat pain and inflammation at the source by using low level and safe electromagnetic pulses to stimulate injured cells to speed recovery. Blood flow in the body is regulated by electrical signals that travel along nerves. The device modifies these nerve signals, providing pain relief by enhancing blood flow which reduces inflammation and restores the injured tissue to a healthy state. Learn more!
2) Is the RecoveryRx device a magnet?
No. It is a battery operated pulsed electromagnetic medical device. When activated, the devices gently pulse a low level energy into the injured area reducing pain and inflammation.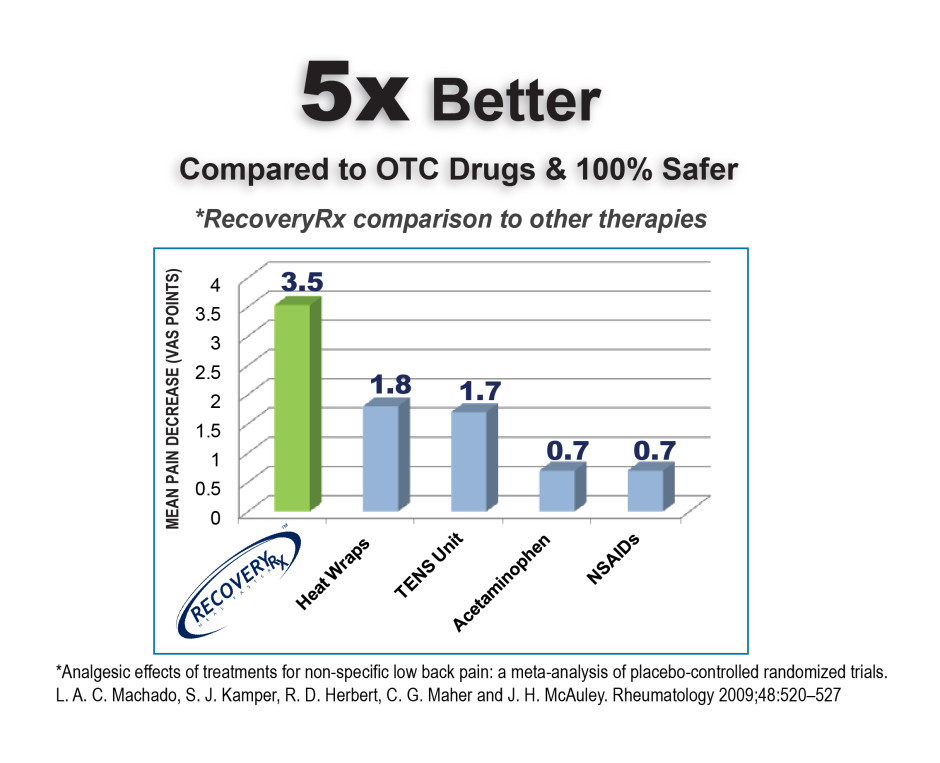 Clinical Evidence
3) Is this technology clinically proven?
Yes! This technology has been clinically proven through a series of clinical studies at leading medical institutions, of which more are ongoing.The technology has been used for decades in hospitals and clinics and has received an overwhelming amount of positive testimonials from consumers. Learn more!
Product Application
4) What will I feel when using the device?
Only better! The device is sensation and odor free and you will not feel the low level energy that is gently pulsed into the cells to restore damaged tissue.So the only thing you feel is relief!
5) How long until I feel pain relief from using the device?
Depending on the severity of the injury, patient pain levels can begin to subside after only 2-3 hours of wearing the device and will continue to decrease as long as the device is being used continuously or between 8-24 hours per day. However, in some instances it could take longer for the therapy to take effect.
6) How long do these products last?
The RecoveryRx® products last for 720 hours and can be turned on and off as needed.  The Smart Insole™ last for 15 days of continuous therapy.

7) How does the device stay on my body?
The RecoveryRx® Back product includes a very comfortable light elastic belt that is fastened with Velcro. The RecoveryRx® Knee products include a Velcro wrap for adhering to your knee. You could also remove the device from the wraps and use medical grade tape to adhere to your body. The Smart Insole™ consists of micro medical devices that are embedded in comfortable heel gel inserts.  A nighttime wrap is included so you can easily receive 24/7 continuous heel pain relief therapy.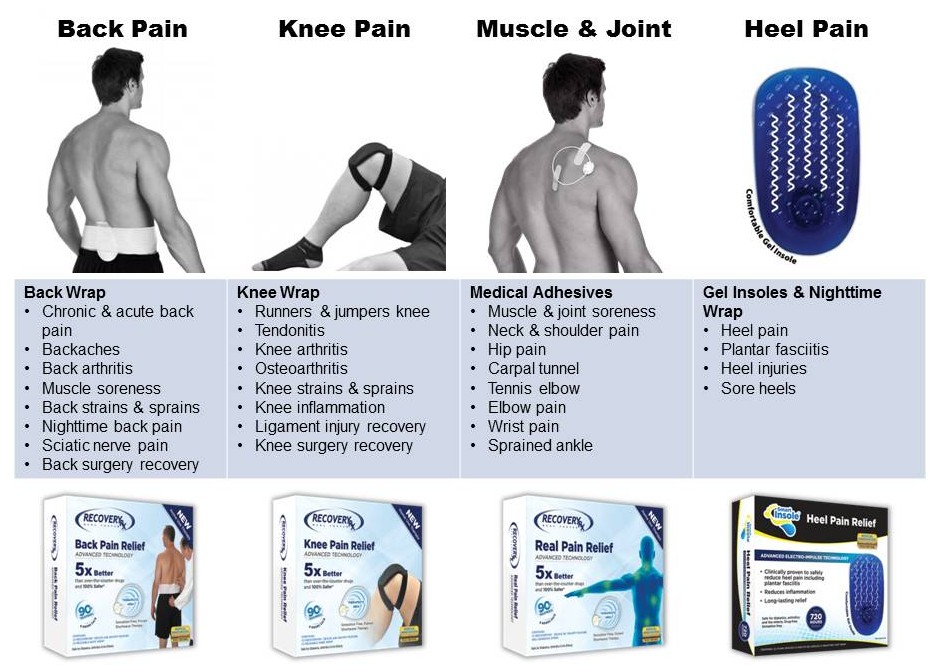 8) Where should I place the device for maximum treatment?
The therapeutic area is within the loop of the device.The loop area should be placed directly over the source of the pain.
9) Can I wear the device on other areas of my body?
Yes. These devices are effective in treating all musculoskeletal pain. You can use any medical grade adhesive or wrap to adhere the device to the area in pain.
10) How close to the body should I wear the device?
The device should be placed as close to the skin as possible. The therapy will also be effective through light clothing. If the medical adhesive strips are too harsh on your skin, you may apply the device over spandex or tight fitted clothing. Use medical tape or wrap to adhere the device to the shirt over the source of the pain.
11) Can I wear more than one device?
Yes. You can wear more than one medical device at a time just as long as more than one device is not directly on top of another.
12) Can the RecoveryRx® product be placed under compression dressings?
No. RecoveryRx® can't be used under compression dressings; however, the device can be used over the compression dressing with the energy passing through to the tissue below.
13) Does it matter what direction the device is placed on my body?
No. The module only houses the battery and can be placed in any direction. The device loop should be placed directly over the source of the pain for maximum treatment.
14) Can I replace the battery?
No. These devices are disposable and should be discarded when the battery life has ended. Engineers determined that the device is no longer able to give an optimal treatment after 720 hours because of continued bodily movement which causes wear on the internal components. For this reason, the device needs to be discarded after the operation time. These can be disposed of in ordinary trash.
Safety
15) Is this technology safe?
Yes! Our products are drug free and have no side effects. These devices can be worn by diabetics, arthritics, the elderly and bedridden. The technology has been used for decades in hospitals to help patients recover faster from common pain ailments. Over 700,000 products have sold worldwide with no adverse effects.
16) Are these safe to use with metal implants and pacemakers?
The RF field strength is too low for any significant heating from implanted metal so it is safe for all metal implants. There is no concern for pacemakers as they have built in RF protection. Though as a precaution, we don't recommend using directly over the pacemaker.
17) Can pregnant women use the device?
Our products have not been clinically evaluated for pregnancy; therefore, we cannot recommend its use.
18) Are these medical devices safe for children to use?
The application of shortwave therapies (high power & short treatment time) has been contraindicated for juveniles due to the unknown effects of electromagnetic fields on bone growth plates. There is no clinical evidence or other evidence to show that it is harmful. Some clinical studies on juvenile onset arthritis have been completed with no side effects. These devices would be safe for juveniles for short term use i.e.< 1 month.
Where to Purchase
19) Where can I purchase the RecoveryRx®?

Please visit our Distributors page to find a dealer near you!
Contact us today!
Have a question about the RecoveryRx® technology or products?  Feel free to contact us at 1-888-757-2284 or recoveryrx@bielcorp.com.  We are open Monday – Friday 8am-5pm EST.
Contact us!
Testimonials
"I use RecoveryRx™ on every facial procedure. It reduces my patients bruising and swelling by 50% following Blepharoplasty, Face Lifts, and Rhinoplasty. As a result of RecoveryRx, two weeks of standard surgical recovery has been reduced to 5-7 days."
Laurie Casas MD, FACS
Northwestern University
Feinberg School of Medicine
See More Testimonials