RecoveryRx® Orthopedic Market
Approximately one-third of the world's population suffers from pain particularly in the back, knee, neck and shoulder.  The RecoveryRx® product can provide your patients with a safe, convenient and clinically proven method for acute and chronic pain management that has an astounding cost/benefit ratio and no side effects.
Benefits of using the RecoveryRx®:
Clinically proven safe & effective
Long lasting pain relief
Convenient & easy to wear
Safe to use for diabetics, arthritics & the elderly.
Can be combined with any medication and used overnight or up 24 hrs a day.
Accelerates patient recovery
Reduces the time lost from work, school, sports, etc.
Cost effective
The RecoveryRx® medical device can be used to treat numerous orthopedic conditions including orthopedic surgeries.
RecoveryRx® Applications: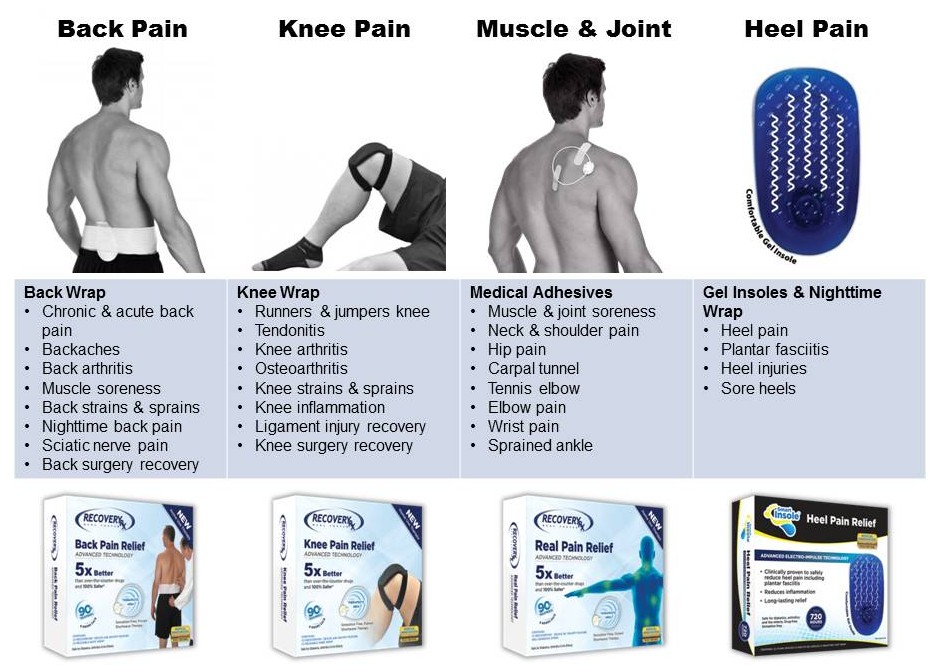 A common method to control pain is the use of OTC drugs, which have numerous side effects, especially with long term use, and have limited efficacy.  Narcotics drug used for moderate to severe pain are no longer viewed as effective for long term use (> 3 months) and have significant adverse side effects which include dependence and addiction.  Because of the multiple side effects of pain drugs many chronic pain sufferers cannot control their pain due to the lack of an effective and safe therapy.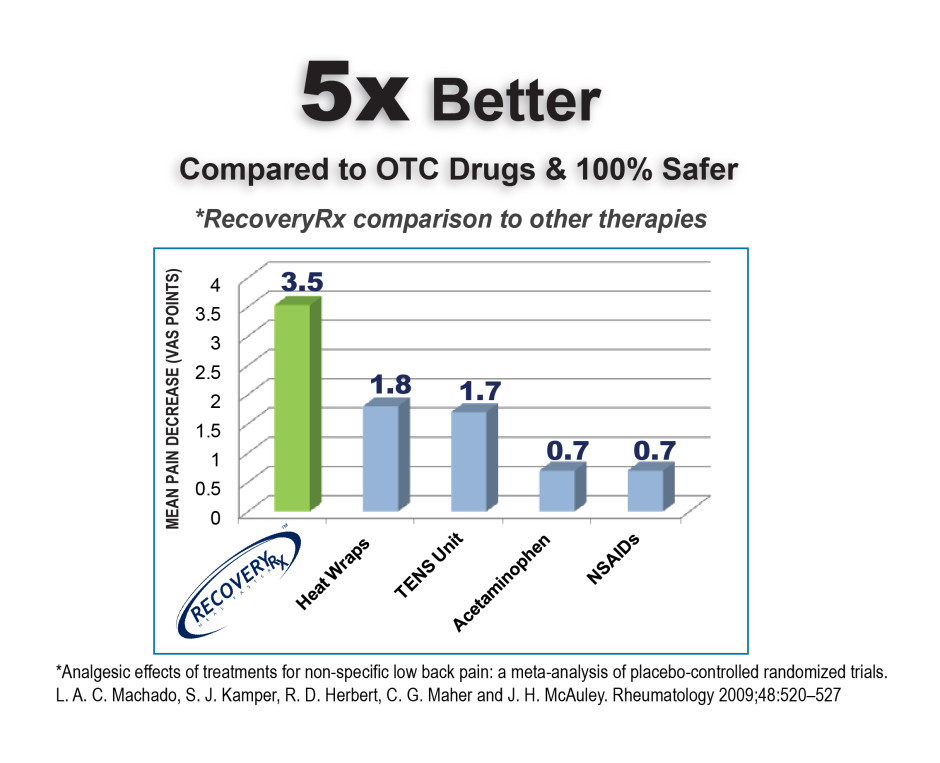 Extensive clinical research has been conducted with a large number of clinical publications for the medical application of pulsed shortwave therapies including RecoveryRx®.  Click here to view RecoveryRx® musculoskeletal pain studies
RecoveryRx® is available in various methods to conveniently and comfortably attach the device to the body for different musculoskeletal pain conditions.
Contact us today!
Have a question about the RecoveryRx® technology or products?  Feel free to contact us at 1-888-757-2284 or recoveryrx@bielcorp.com.  We are open Monday – Friday 8am-5pm EST.
Contact us!
Testimonials
"I use RecoveryRx™ on every facial procedure. It reduces my patients bruising and swelling by 50% following Blepharoplasty, Face Lifts, and Rhinoplasty. As a result of RecoveryRx, two weeks of standard surgical recovery has been reduced to 5-7 days."
Laurie Casas MD, FACS
Northwestern University
Feinberg School of Medicine
See More Testimonials